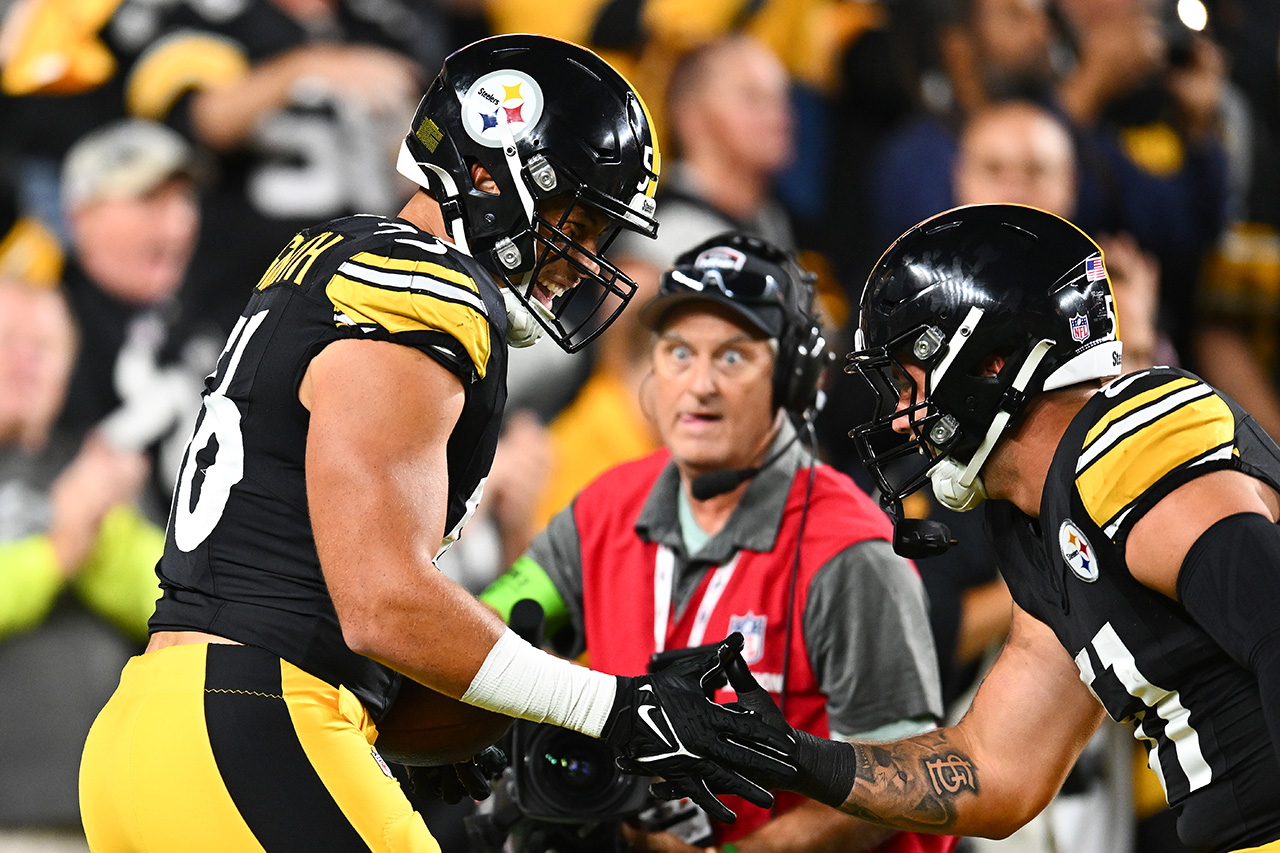 Look at the cameraman in the image above. That is the kind of face Pittsburgh fans made after their 30-7 loss to the 49ers in the season opener. Honestly, their faces were probably much angrier, and stuffed with sandwiches and french fries. I can only assume fans went to the Phipps Conservatory and laid down among the plants to try to stop thinking about how bad their team might be this season. That's what I'd do, at least.
Do they feel any better this morning? The Steelers scored two defensive touchdowns in a 26-22 win over the Browns last night, the last coming on a T.J. Watt fumble return with just seven minutes left in the game. The first came on the very first play of the game, when Alex Highsmith returned a pick 30 yards for a TD. In between that … well. Maybe Steelers fans aren't feeling that much better.
This was not a game like recent Eagles ones, where the team had a big lead and only just held on at the end. This game was close throughout. And Steelers fans were so angry they chanted "Fire Canada" after a three-and-out in the second half. "Of all the chants fans have made over the years, this was one of the loudest," Noah Strackbein wrote at SI.com.
There were reasons fans were angry at offensive coordinator Matt Canada. The Steelers had just nine first downs. They gained just 255 yards to the Browns' 408. Kenny Pickett completed only half his passes. Some of Canada's play-calls were baffling: He ran a WR handoff that lost two yards, and a read-option on third and 1 late in the game that lost three. Pittsburgh's offense had negative-seven yards in the fourth quarters.
The Steelers won mainly because of Highsmith's heroics—he also forced the game-changing fumble—and because of some hilarious miscues from the Browns. Deshaun Watson was flagged twice for grabbing the facemask of a defender and tossing them to the ground. Thurston Howell III enthusiast Mike Florio wrote that Watson should've been kicked out of the game for making contact with an official. (He also wrote that Watson has been ticked by "whatever opposing players are saying to him in close quarters about his off-field issues.") Watson was so bad Cleveland.com's Terry Pluto called him "hard to watch." People are so angry at him right now, this time for his football play.
At least the Browns' defense looked good, allowing just one touchdown for the second consecutive week. The Steelers defense outscored the offense, but it still had its issues. After losing Nick Chubb, Jerome Ford rushed for 106 yards on 16 carries. The Steelers have allowed 386 rushing yards in the first two weeks, worst in the NFL. They won last night, but they still look like they stink. They kinda make you want to do this.