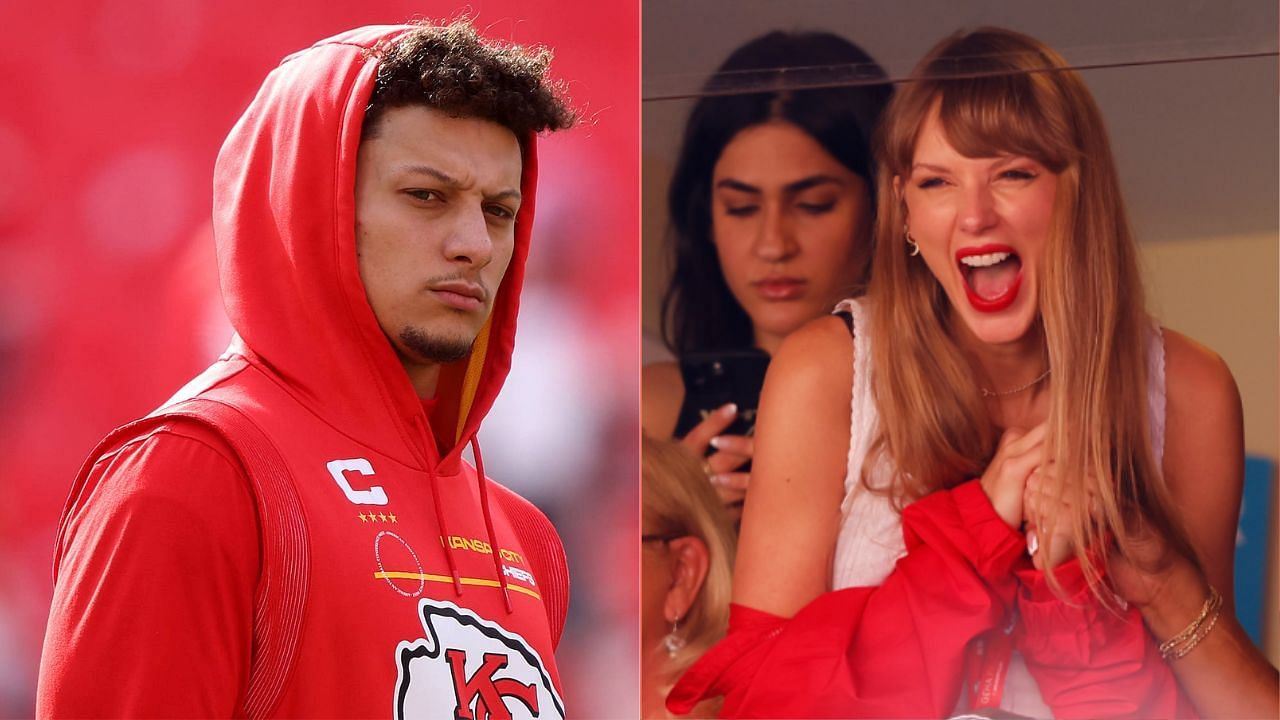 There is not much that can faze Patrick Mahomes and Travis Kelce, but then Taylor Swift is a different beast. The singing sensation came to the Kansas City Chiefs' game against the Chicago Bears and sat in the suite with the tight end's mother. It is sure to send the rumor mill into overdrive.
Patrick Mahomes and Travis Kelce have combined to win many games for the Chiefs, including two Super Bowls. There wavelength is almost telepathic. But opposition defenses know it as well and the tight end is almost always in their crosshairs, looking to slow the Kansas offense.
However, the quarterback knew that with Taylor Swift in town, he almost had a responsibility to find a touchdown pass to his teammate. It duly arrived in the game, which saw the singer yelling a "Let's f**king go!" while celebrating.
" data-lazy="//staticg.sportskeeda.com/skm/assets/promotional-content/2023/nfl/start-sit/desktop_w3.png?h=412″ />
After the game, Patrick Mahomes acknowledged that he felt the pressure to ensure that he threw a pass to Travis Kelce. He said,
"I heard that she was in the house. I felt a little bit of pressure, I knew I had to get it to Trav [Travis Kelce]. I think he wanted to get in the end zone just as much as all of the Swifties wanted him to."
Patrick Mahomes and Travis Kelce actually played better with Taylor Swift in attendance
Despite what Patrick Mahomes said, he did not actually seem to play too badly with Taylor Swift in attendance. That is not suprising given he and Travis Kelce have played multiple Super Bowls now, where they have seen the biggest entertainers during the halftime shows in addition to great teams opposite them.
Looking at this season, this was the quarterback's best outing. He completed 24 of his 33 attempts for three touchdowns and a 127.3 passer rating. He had not received a passer rating over 100 in the previous two games against the Detroit Lions and the Jacksonvile Jaguars.
The tight end was also inspired. He was injured for the season-opening loss in the first game against the Lions but returned against the Jaguars. He caught four of nine targets in that game for just 26 yards and one touchdown, averaging 6.5 yards per reception. That increased to seven out of eight targets caught, 69 receiving yards at 9.9 yards per reception and one touchdown today.
If anything, Taylor Swift's appearance seemed to make both Mahomes and Kelce play at a higher level. Whether that was due to her presence or incompetence on the part of the Chicago Bears can only be decided later in the season.