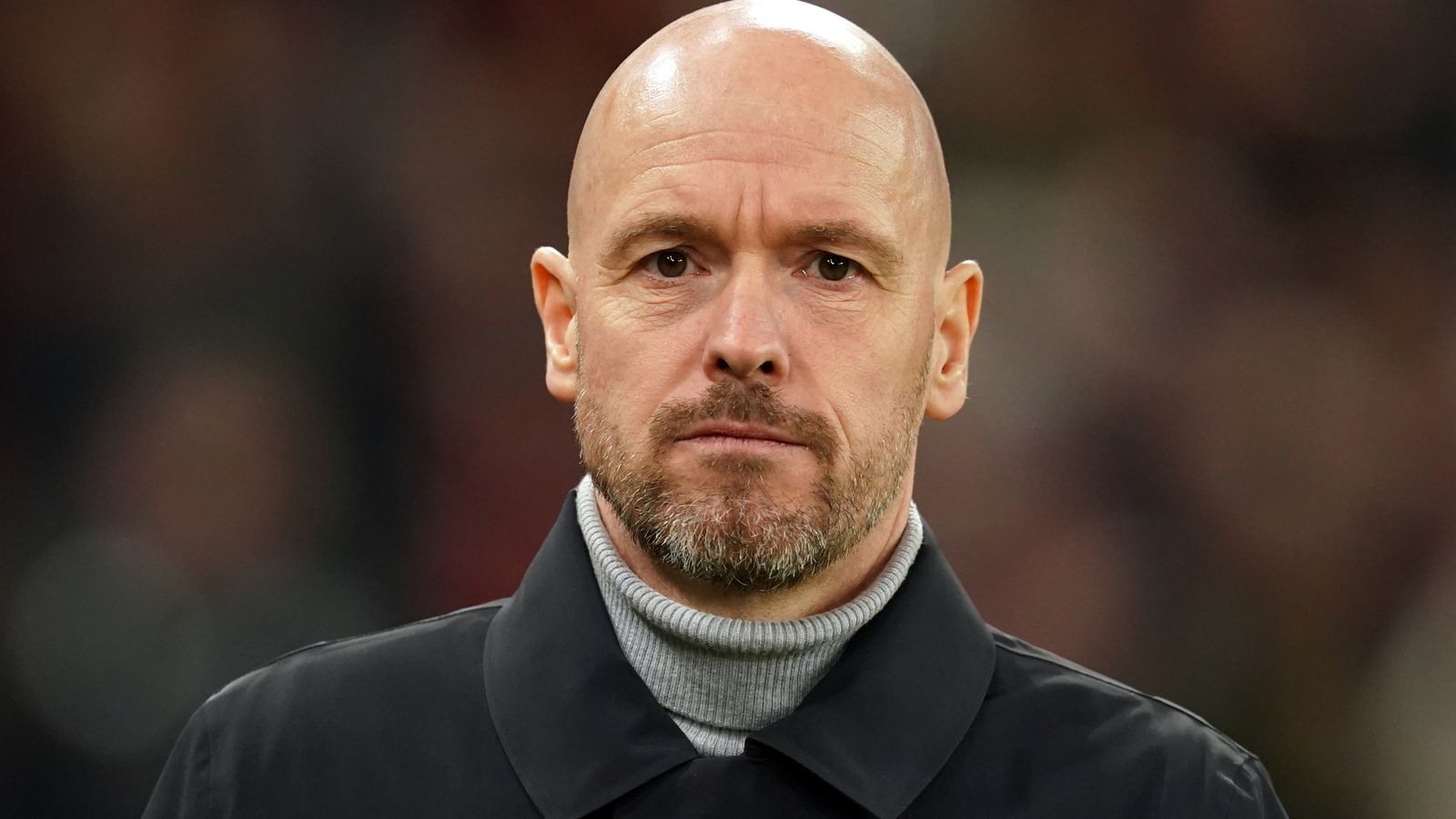 Manchester United manager Erik ten Hag claims the club is not in crisis – but many disagree. Amid issues on and off the pitch and three defeats in their past four games, the club also has ongoing issues on the road.
During one full season in charge, Ten Hag has ended the club's six-year trophy drought by winning the Carabao Cup, reached an FA Cup final and secured a third-place finish in the Premier League last term.
But United are not completely out of the woods from the feeling of the disaster campaign they endured two seasons ago. A crisis is never too far away, with the club sitting 13th in the league table after collecting only six points from their opening five games – with the latest bruising coming in a 3-1 defeat to Brighton at Old Trafford on Saturday.
Another area where United are seriously lacking is their form on the road, with Ten Hag preparing his side for away days against Bayern Munich in the Champions League on Wednesday and Burnley on Saturday.
Since the start of last season, United have picked up only one point as visitors against teams that finished in the top nine last term.
Man Utd haven't won any of their last six Premier League away games in London (D2 L4), their longest such run since 2015 to 2016 – between the spells of Louis van Gaal and Jose Mourinho (also six games).
The pressure is building from all angles on Ten Hag's side, who have been fragile away from home since he took charge last summer – most recently losing 3-1 at Arsenal before the international break, after losing 2-0 at Tottenham a fortnight earlier.
But it is not just the results that should concern Ten Hag, as a variety of problems have emerged.
Last season, United shipped seven goals at Liverpool, six at Manchester City, four in the first half at Brentford and two in the first 11 minutes at Aston Villa. Leads were also been thrown away at Arsenal, Tottenham and Crystal Palace, while the loss at Newcastle in April saw them register just one shot on target.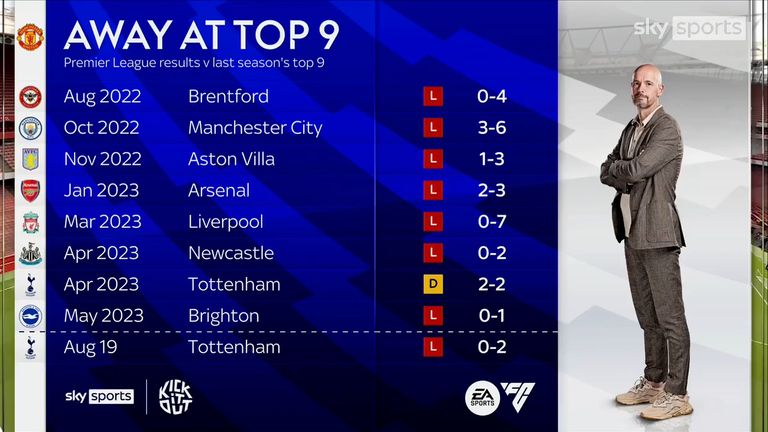 No matter what the context or the environment, United have been consistently sub-par when playing away to the better sides in the Premier League. But as the Sevilla collapse in the Europa League last season illustrated, when the pressure is on, United can crumble against lesser sides on the road, too.
After Liverpool closed the gap on United to just one point during the run-in last season, albeit having played two games more, it turned the pressure up on Ten Hag's men as the season reached 'squeaky bum time'.
"When you look at these away stats, it's a real concern and a bad reflection on the group of players you have," said Sky Sports pundit Roy Keane after the Arsenal defeat.
"Clearly, United have a lot of talented players but this suggests they're just depending on their talent, they're lacking personalities and characters.
"That record away from home has to improve, particularly for a club like United – because of the standard of the teams around you.
"I don't like looking at this. It's a huge concern. If you want to be a top team and compete, they've got to improve that drastically."
So where are United going wrong?
There is nothing especially wrong with the basics and how United set up away from home. On average, they have more possession on the road than at Old Trafford and make more tackles.
But United have still conceded 38 goals on their travels in the Premier League since Ten Hag took charge, compared to just 12 at Old Trafford. They have dropped no points from winning positions at home but shipped 10 points from the wrong side of a comeback on their travels.
These stats hint that the pressure of the occasion still gets to these United players on the big stage and Ten Hag – who inherited a side that lost six successive away league games before he took over – believes there could be a deeper mentality issue at the club.
"Well, this is one of the aims we have for this season, that we have to step up in away games to get more points, to bring higher levels, because that is the foundation, of course, for more points," the United manager said before facing Spurs last month.
"So, it's often to do with the personality [of players]. So yeah, that's the demand from me on the players and that we have to show more personality on the pitch to win such games. And so to get more points in away games."
On the ball, United's players appear to go into their shell, if the statistics are anything to go by. Despite having the same amount of possession, Ten Hag's side attempts far fewer through balls and crosses – and have a lower expected-goals rate.
United need to take more risks and play with the freedom and comfort they do at Old Trafford, which has granted them one of the best home records in the league since the start of last season.
Ten Hag's frustration at his side's inability to claim a statement away win is clear to see. This is a manager who does not believe in 'home and away' games.
"For me, it's no different – the pitch is the same size everywhere, there are three referees, there's a fourth official, the ball is round, there's air in the ball," he said in March.
"So, we have to play and to make it our game and that [winning away at a top-four rival] is the next step we have to make then."
That step remains elusive for now.