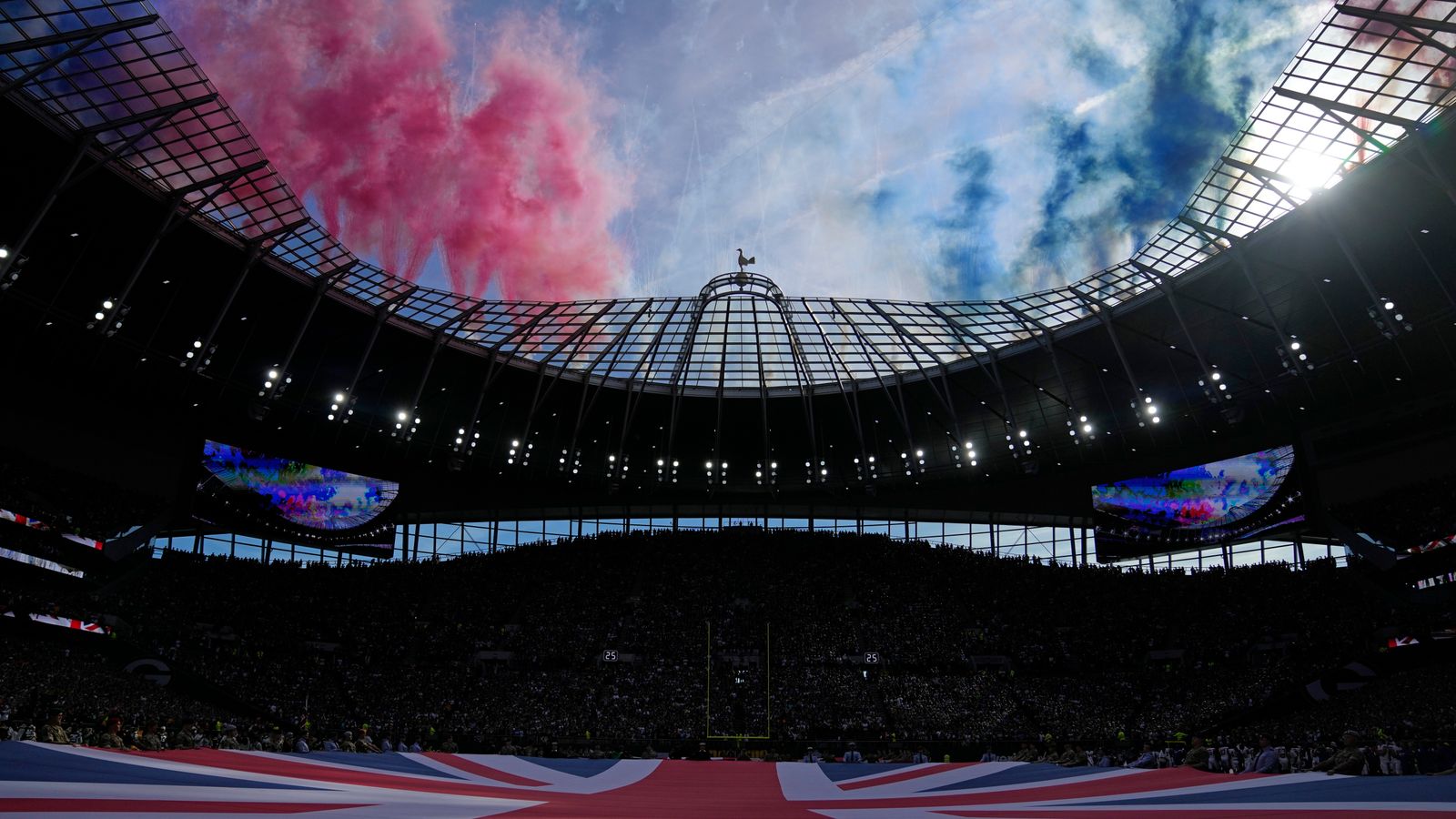 The NFL is back in town for an October takeover. London welcomes some of the league's superstars to its shores while playing stage to three regular season games across Wembley and Tottenham Hotspur Stadium over three consecutive weeks.
Josh Allen, Lamar Jackson and Trevor Lawrence are all in action for another bumper UK schedule, before the baton is passed to Frankfurt for two Germany games in November as the league continues to showcase its global expansion.
It marks the 16th year that a regular season game has been played in London since the New York Giants beat the Miami Dolphins in the first back in 2007, 2020 being the only year not to have hosted a game due to the coronavirus pandemic.
How did we get here?
Long before the days of International regular season games, the UK notably hosted eight American Bowl pre-season exhibition games at Wembley between 1968 and 1993.
By Week Eight of the 2007 campaign, the Giants were moving to 6-2 with a 13-10 win over the Dolphins on their way towards winning Super Bowl XLII later that season.
2023 NFL International Games schedule
| Date | Matchup | Location |
| --- | --- | --- |
| October 1 (Week 4) | Atlanta Falcons vs Jacksonville Jaguars | Wembley Stadium |
| October 8 (Week 5) | Jacksonville Jaguars vs Buffalo Bills | Tottenham Hotspur Stadium |
| October 15 (Week 6) | Baltimore Ravens vs Tennessee Titans | Tottenham Hotspur Stadium |
| November 5 (Week 9) | Miami Dolphins vs Kansas City Chiefs | Frankfurt Stadium |
| November 12 (Week 10) | Indianapolis Colts vs New England Patriots | Frankfurt Stadium |
The league returns in 2023 having now played 33 regular season games in London after completing the clean sweep of teams last year as the Green Bay Packers became the 32nd and final franchise to make the trip across the pond, led by Aaron Rodgers in their defeat to the Giants in front of a raucous Tottenham crowd.
Beginning in 2022, teams are now on a rotation that will see every side play in another country at least once every eight years.
NFL London statistics
| | |
| --- | --- |
| First regular-season game | 2007 (Miami Dolphins vs New York Giants, Wembley Stadium) |
| Number of games | 33 |
| Highest attendance | 86,215 (Jacksonville Jaguars vs Denver Broncos, Wembley Stadium, 2022) |
| Most team appearances | 9 – Jacksonville Jaguars |
| Most wins | 3 – New York Giants, Minnesota Vikings |
| Highest-scoring game | San Diego Chargers 32-37 New Orleans Saints (2008) |
The Jacksonville Jaguars will make history this year by becoming the first team to play back-to-back regular season games in London when they face the Atlanta Falcons and Buffalo Bills, lifting their tally of UK games to a league-leading 11 in the process.
Wembley Stadium will host its 25th game while Tottenham Hotspur Stadium celebrates its seventh and eighth games following its first in 2019. Twickenham Stadium also notably hosted one game in 2016 and two in 2017.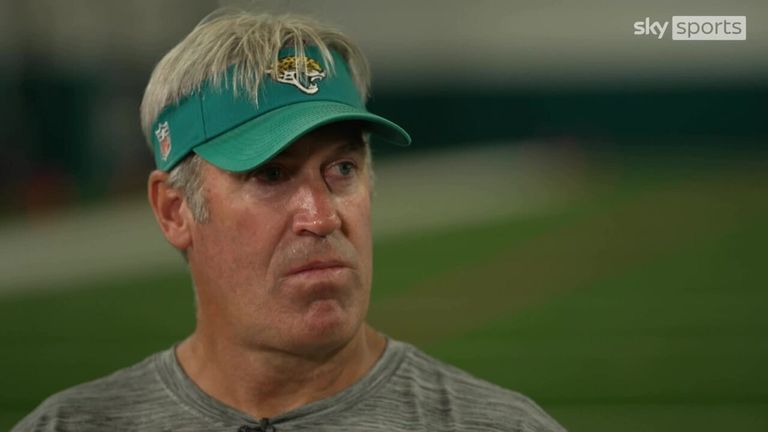 Jacksonville Jaguars coach Doug Pederson was full of praise for Trevor Lawrence and labelled him as 'the real deal'. Pederson believes there is much more to expect from the quarterback ahead of the new NFL season.
The home of the NFL in the UK
The NFL recently announced the extension of its partnership with Tottenham Hotspur that will see the Spurs stadium host two regular-season games each year through to the end of the 2029-30 season.
As part of the new deal Tottenham Hotspur Stadium, the only purpose-built stadium for NFL games outside of the US, has now been given the official status as the 'home of the NFL' in the UK.
NFL London's memorable moments
We look back on some of the greatest moments in NFL London games history…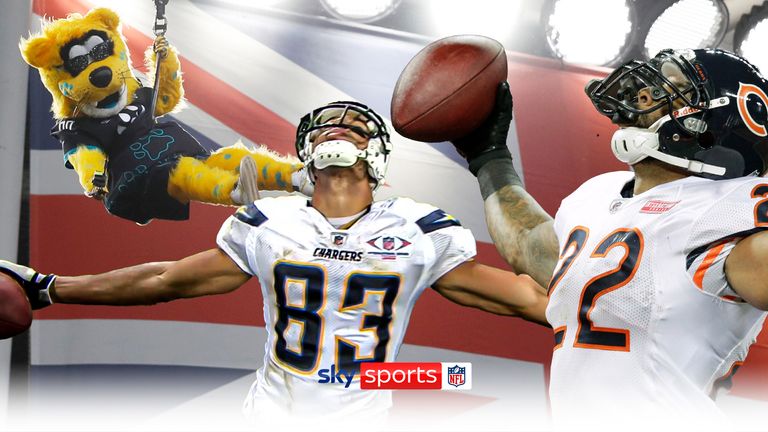 Take a look back at the most memorable moments from the NFL London games including the Saint double-doink loss, Aaron Rodgers' big reception, Landon Collins' incredible pick-six and the Jags mascot bungee jumping.
Meet the teams
Jacksonville Jaguars
| | |
| --- | --- |
| Head Coach | Doug Pederson |
| General Manager | Trent Baalke |
| Owner(s) | Shahid Khan |
| 2022 season | 9-8 |
| Super Bowl titles | 0 |
| Last Super Bowl appearance | Never been to Super Bowl |
After something of a null and void rookie season under Urban Meyer, Trevor Lawrence's NFL story finally got underway last year as the most highly regarded college quarterback prospect since Andrew Luck lifted the Jags to their first playoff berth since the 2017 campaign. The introduction of Doug Pederson would prove instrumental in allowing Lawrence the true transition he had lacked in 2021, a highlight coming during Wild Card weekend when he led the Jags to victory over the Chargers having trailed 27-7 at half-time.
Lawrence returns to London armed with a new star receiver in former Falcons man Calvin Ridley, who has resumed his career after missing the entire 2022 season through suspension. Ridley features in an offense that also includes tight end Evan Engram along with 1,000-yard receiver Christian Kirk and dual-threat running back Travis Etienne. On defense lies 2022 No 1 overall draft pick Travon Walker alongside veteran edge rusher Josh Allen and second-year linebacker Devin Lloyd.
The Jaguars have endured a difficult start to the new season after suffering successive defeats to the defending champion Kansas City Chiefs and rebuilding Houston Texans having beaten the Indianapolis Colts in Week One. They are 4-5 in London, where they have lost three of their lost four games since 2018.
Atlanta Falcons
| | |
| --- | --- |
| Head Coach | Arthur Smith |
| General Manager | Terry Fontenot |
| Owner(s) | Arthur Blank |
| 2022 season | 7-10 |
| Super Bowl titles | 0 |
| Last Super Bowl appearance | 2016 season |
Arthur Smith is primed to shove the running game down the throat of Pederson's Jaguars. This season is about learning whether second-year quarterback Desmond Ridder can be the man to guide Atlanta forward, having only been given a mere cameo towards the back end of last year after taking over as starter from Marcus Mariota. His job is helped by the presence of a three-pronged ground attack made up of 1,000-yard rusher Tyler Allgeier, Cordarrelle Patterson – on his way back from injury – and all-action rookie sensation Bijan Robinson, who was drafted at eighth overall in April and is favourite to collect Rookie of the Year. Through the air Ridder will have Drake London and tight end Kyle Pitts at his disposal, the latter of whom starred with 119 receiving yards and a touchdown when Atlanta beat the New York Jets 27-20 at Tottenham two years ago.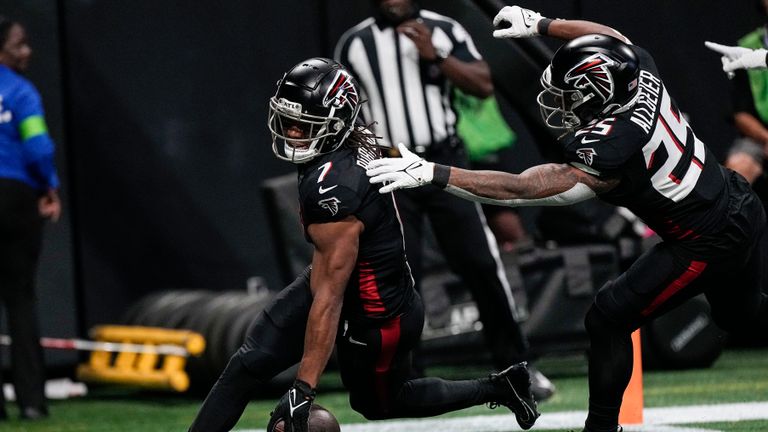 Atlanta's Bijan Robinson beat three Carolina defenders before scoring his maiden touchdown in the NFL.
Veteran defensive ends Calais Campbell and David Onyemata arrived as much-needed experience in free agency, while the Falcons also drafted Ohio State's Zach Harrison in the third round and signed outside linebacker Bud Dupree as a means of extra pass rush support. Among their marquee additions in the secondary was former Bengals safety Jessie Bates III along with former Lions cornerback Jeff Okudah and fourth-round corner Clark Phillips III.
The Falcons are 2-1 to start the year, opening the campaign with victories over the Carolina Panthers and Green Bay Packers before falling to the Detroit Lions in Week Three.
Buffalo Bills
| | |
| --- | --- |
| Head Coach | Sean McDermott |
| General Manager | Brandon Beane |
| Owner(s) | Terry Pegula, Kim Pegula |
| 2022 season | 13-3 – lost in Divisional Round |
| Super Bowl titles | 0 |
| Last Super Bowl appearance | 1993 season |
The Bills have been knocking on the door, and resume their pursuit of a long-awaited Super Bowl crown on the back of three successive AFC East titles, two Divisional Round losses and defeat in the AFC Championship Game over the last three years. MVP-contending quarterback Josh Allen and his bombs-away arm talent heads up one of the league's most complete rosters, which includes a new weapon in the form of first-round rookie tight end Dalton Kincaid as a welcome supplement to a receiving core of star man Stefon Diggs and Gabe Davis. Second-year running back James Cook meanwhile stands to play an instrumental role this season as Ken Dorsey strives for greater balance on offense, while on defense the Bills have seen linebacker Tremaine Edmunds depart in free agency, defensive coordinator Leslie Frazier step away from the team and star edge rusher Von Miller ruled out for the opening four games of the campaign as he continues his recovery from injury.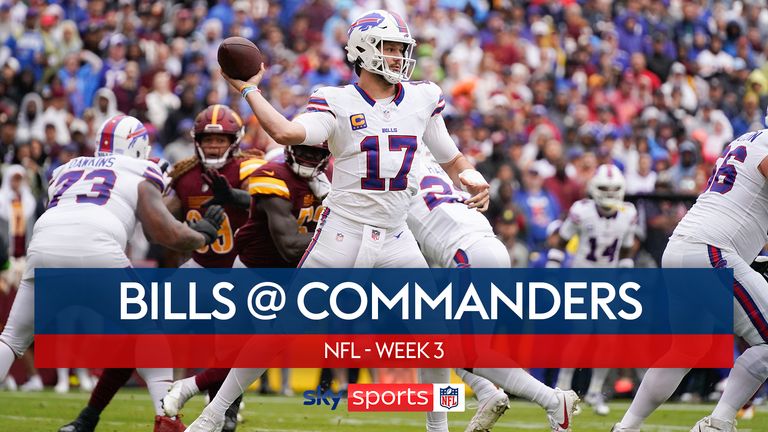 Highlights of the Buffalo Bills against the Washington Commanders in Week Three of the NFL season.
Buffalo suffered a wobble in Week One when they lost to the Zach Wilson-led New York Jets following Aaron Rodgers' season-ending injury four plays into the game, before responding with emphatic wins over the Las Vegas Raiders and Washington Commanders to reiterate their contender credentials. The Bills have played in London just once previously, losing 34-31 to the Jaguars in 2015.
Baltimore Ravens
| | |
| --- | --- |
| Head Coach | John Harbaugh |
| General Manager | Eric DeCosta |
| Owner(s) | Steve Bisciotti |
| 2022 season | 10-7 – lost in Wild Card Round |
| Super Bowl titles | 2 |
| Last Super Bowl appearance | 2012 season |
Lamar Jackson makes his London debut amid something of a new chapter for the former MVP quarterback after he and the Ravens agreed on a new five-year $260m extension in the offseason following a holdout over contract negotiations. He is joined by first-year Ravens offensive coordinator Todd Monken, who traded in life with the back-to-back College National champion Georgia to succeed Greg Roman, tasked with installing the most diverse Baltimore offense yet in view of showcasing not only the ground threat of his star quarterback but also his passing expertise in a more spread-friendly offense. Plans to do so have been enhanced by the drafting of electric first-round wide receiver Zay Flowers to line up across from trusted tight end Mark Andrews, while the Ravens will hope to have Odell Beckham Jr and Rashod Bateman available after early-season injury setbacks for the receiving duo. Scottish edge rusher David Ojabo could feature in London, though has been nursing an ankle issue of his own having missed much of his rookie year.
John Harbaugh's side sit 2-1 through three weeks having opened with victories over the Houston Texans and Joe Burrow-led Cincinnati Bengals before suffering a shock overtime defeat to the Gardner Minshew-led Indianapolis Colts. They head back to the UK for the first time since losing 44-7 to the Jaguars in 2017.
Tennessee Titans
| | |
| --- | --- |
| Head Coach | Mike Vrabel |
| General Manager | Ran Carthon |
| Owner(s) | Amy Adams Strunk |
| 2022 season | 7-10 |
| Super Bowl titles | 0 |
| Last Super Bowl appearance | 1999 season |
The Titans are coming off their first losing season in five years under the leadership of head coach Mike Vrabel, who has taken his team to the playoffs on three occasions. Vrabel's side slipped to a 7-10 finish to undo their strong start to the season last year following a seven-game losing streak, raising some question marks over the future of Ryan Tannehill at quarterback. Derrick Henry can still pound the rock as ferociously as any running back in the league as defining figure for his side's offense, while the Titans sought much-needed support for young-receiver Treylon Burks this summer by signing veteran star DeAndre Hopkins. The Titans looked to the future by using the 11th overall pick on offensive tackle Peter Skoronski, while on defense Harold Landry III, Jeffery Simmons and Denico Autry can still combine to form one of the league's fiercest fronts.
Tennessee return for their second London outing after a 20-19 defeat to the Los Angeles Chargers in 2018. They are 1-2 on the year after losses to the Cleveland Browns and New Orleans Saints either side of a thrilling overtime win against the Chargers.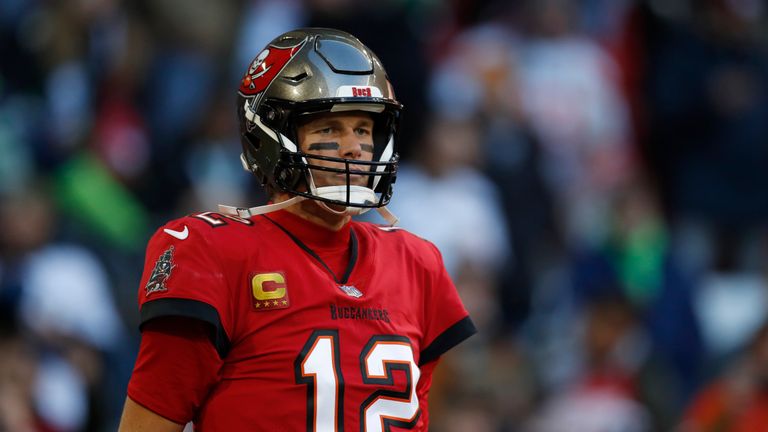 Highlights of the Seattle Seahawks against the Tampa Bay Buccaneers from Munich in Week 10 of the NFL season.
Going global
The NFL returns to Germany for a second year following the roaring success of its maiden regular-season game in mainland Europe in 2022 when Tom Brady's Tampa Bay Buccaneers beat the Seattle Seahawks in Munich last November.
The Dolphins are scheduled to meet the Super Bowl champion Chiefs at the Frankfurt Stadium on November 5, with the same venue also playing stage to the Colts against the New England Patriots on November 12 as part of Frankfurt's rotation with Munich.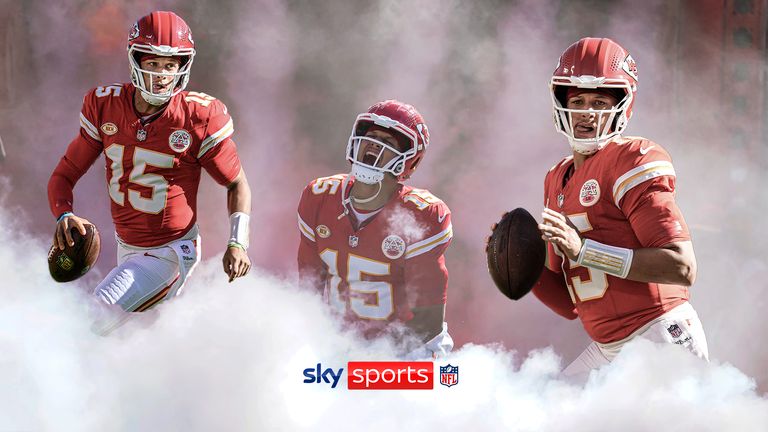 Take a look at Patrick Mahomes' best plays from the opening three weeks of the 2023 NFL season.
There will be no international game held in Mexico this year due to renovations taking place in Estadio Azteca in Mexico City.
Further global expansion remains in the offing, with NFL executive vice president Peter O'Reilly recently telling media that the league is preparing for future games in Spain and Brazil.
Inside the Huddle
Hear from Sky Sports NFL's Neil Reynolds and Jeff Reinebold on Inside the Huddle as they break down the biggest storylines from around the NFL while discussing all three London games.
Neil Reynolds: "There's something special in the air, there's just a little different smell in the air when the NFL is in town."
Jeff Reinebold: "I think it's the best pro football environment next to the Super Bowl that I've experienced.
"The amount of electricity that comes to town and all the things going on, how the fans come from everywhere across Europe to watch these games and be a part of the circus that only the NFL can provide.
"I remember when we did the tailgate at Wembley, to stand on that stage and see the sea of people out there, it was awesome. For guys like us who have a historical context of the game in the UK, it's just incredible."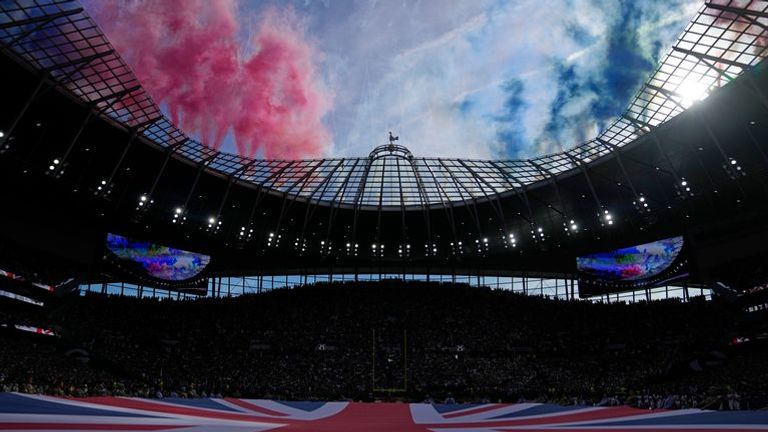 Neil Reynolds and Jeff Reinebold discuss the upcoming London games and how far the sport has come in the UK and Europe on the Inside the Huddle podcast.
Her Huddle: The London games are back!
Hannah Wilkes hosts the latest episode of Her Huddle, looking ahead to this year's London games…
What else?
As part of the NFL's UK takeover, fans are invited to London's Battersea Power Station for an all-day immersive event from 10am-6pm on Saturday October 7.
'The 'NFL Experience' will offer fans of all ages the opportunity to test their skills in the Quarterback Challenge, Broad Jump and Vertical Jump alongside wide receiver and kicker activities.
People will also have the chance to interact with fellow fans by visiting their team's designated pubs.
Team pubs
| Team | Pub |
| --- | --- |
| Atlanta Falcons | The Admiralty – 66 Trafalgar Sq, St. James's, London WC2N 5DS |
| Jacksonville Jaguars | The Pavilion End – 23 Watling St, London EC4M 9BR |
| Buffalo Bills | The Admiralty – 66 Trafalgar Sq, St. James's, London WC2N 5DS |
| Baltimore Ravens | The Counting House – 50 Cornhill, London EC3V 3PD |
| Tennessee Titans | The Admiralty – 66 Trafalgar Sq, St. James's, London WC2N 5DS |
How to watch on Sky Sports
You can watch the Ravens take on the Titans in the final NFL London game of the month on Sunday October 15, with kickoff at 2.30pm live on Sky Sports NFL.
In the meantime you can catch up with all the action from the first two UK games on our weekly NFL Round-up show from 9pm on a Monday.
Week Four in the NFL continues on Sunday night when the Miami Dolphins face the Buffalo Bills, with coverage from 5pm ahead of kick-off from 6pm live on Sky Sports NFL, before the New England Patriots take on the Dallas Cowboys from 9.25pm.
require.config({"shim":{"facebook-sdk":{"exports":"FB"}},"baseUrl":"https://www.skysports.com/","paths":{"skysports_com":"static/skysports_com-82f5510041974","skysports_digrev":"static/skysports_digrev-1e6d2395e4f4a","skysports_legacy":"static/skysports_legacy-1fc4d92072fe2","skysports_ipad_components":"static/skysports_ipad_components-9347556046b82","skysports_sap":"core/js/../static/js/skysports_sap","requireLib":"static/require-2.1.0-15f03d8ff7a4b","class":"static/class-55bbf080a62c3","countdown":"static/countdown-b387bb40118ae","energize":"static/energize-bac53226fb-93aea85fe6a04","hammer":"static/hammer-a592776ebb-f14662ea8bb34","marker-clusterer":"static/marker-clusterer-3911fd8c83740","moment":"static/moment-1.7.2-33075cfd4ad32","reqwest":"static/reqwest-a845dfd832-dea6ebed2de7d","scroll-pane":"static/ftscroller-280c6900bc-ed5e878ea6190","underscore":"static/lodash.custom-d1cf24f7f366e","adaptive-content":"static/adaptive-content-1fc383fae518a","article-widget-betting":"static/article-widget-betting-7a9641160b027","app-bridge":"static/app-bridge-30b975666386a","article-advert":"static/article-advert-fa40febcc7b0f","article-outbrain":"static/article-outbrain-bba64c5034e96","autocomplete":"static/autocomplete-62886d6993248","autocomplete-lite":"static/autocomplete-lite-76d43ae628a4e","accordian":"static/accordian-87ec71ccbfdd1","betting-lines":"static/betting-lines-31e5cdbecf2bc","bskyb-omniture":"static/bskyb-omniture-1769165dd1daa","bskyb-omniture-1-2":"static/bskyb-omniture-1.2-ef8627d226d42","calendar-url-builder":"static/calendar-url-builder-863fca999d8c8","carousel":"static/carousel-cfdab6400e999","carousel-lite":"static/carousel-lite-520eccc372b67","close-me":"static/close-me-1dd5bf41462eb","content-stream":"static/content-stream-4ceef3bbd096b","content-swap":"static/content-swap-bdbe29a70d8f9","countdown-widget":"static/countdown-widget-459a93f477481","comments-reply":"static/comments-reply-81d5853bdd03b","cookie":"static/cookie-072824b3a5047","android-notice":"static/android-notice-58d95f174579a","create-audio":"static/create-audio-f77436036a203","dataset":"static/dataset-487d6875fe94d","datepicker":"static/datepicker-b112a28bd151b","datepicker2":"static/datepicker2-d10188465db39","dom":"static/dom-f554c2354ab77","dropdown":"static/dropdown-de4729ed67884","dropdown-select":"static/dropdown-select-bbaa962ff8888","element-listener":"static/element-listener-39391d1341a3c","environment":"static/environment-d24a016d1c736","events":"static/events-e6bde13ac56dc","facebook-sdk":"//connect.facebook.net/en_US/all","form":"static/form-269f9f014d35a","form-chart":"static/form-chart-8e3b2b92c7e77","form-validation":"static/form-validation-76d631ee9c0fb","html-poller":"static/html-poller-db12e18d06d04","implicit-personalisation-display":"static/implicit-personalisation-display-2bc93246729e4","implicit-personalisation-storage":"static/implicit-personalisation-storage-a4eb341b47077","implicit-personalisation-removal":"static/implicit-personalisation-removal-7556598e29ff5","inverted-listener":"static/inverted-listener-07a7ace73331d","iscroll-lite":"static/iscroll-lite-bf22458ad30dc","keyboard-listener":"static/keyboard-listener-f6b30a391df5b","keyboard-view":"static/keyboard-view-5a68be0e6dc00","lazy-images":"static/lazy-images-f5238f2864a52","live-article":"static/live-article-95ba706f060b3","live-cricket":"static/live-cricket-4d6fa4651f344","live-sport":"static/live-sport-db2b39a357d02","live-update":"static/live-update-945d95543ad61","live-refresh":"static/live-refresh-5ebefb5206c82","live-refresh-darts-table-controller":"static/live-refresh-darts-table-controller-d6c7bb8af0efe","live-refresh-darts-table-view":"static/live-refresh-darts-table-view-5c4f5e87a3cb2","live-refresh-football-controller":"static/live-refresh-football-controller-461aca93a03fe","live-refresh-football-view":"static/live-refresh-football-view-e722175c6f5eb","live-refresh-fixture-update-controller":"static/live-refresh-fixture-update-controller-1234617fddd04","live-refresh-fixture-update-view":"static/live-refresh-fixture-update-view-aae190ead42d7","live-refresh-live-golf-leaderboard-controller":"static/live-refresh-live-golf-leaderboard-controller-c78264eefa25c","live-refresh-golf-matchplay-controller":"static/live-refresh-golf-matchplay-controller-141ff1ce16821","live-refresh-golf-matchplay-view":"static/live-refresh-golf-matchplay-view-562c7eea1e08b","live-refresh-match-header-controller":"static/live-refresh-match-header-controller-db2b9bbacac74","live-refresh-match-header-football-view":"static/live-refresh-match-header-football-view-f9ce5b3e5bde3","live-refresh-match-header-rugby-league-view":"static/live-refresh-match-header-rugby-league-view-34aa9cc8d67be","live-refresh-match-header-rugby-union-view":"static/live-refresh-match-header-rugby-union-view-a6b7dda93027f","live-refresh-match-stats-controller":"static/live-refresh-match-stats-controller-db8736f4b3e01","live-refresh-match-stats-view":"static/live-refresh-match-stats-view-62f02d64e4cd2","live-refresh-gp-standings-controller":"static/live-refresh-gp-standings-controller-aa40463310354","live-refresh-gp-standings-view":"static/live-refresh-gp-standings-view-b820cc96d1d26","live-refresh-tennis-controller":"static/live-refresh-tennis-controller-5681743439cec","live-refresh-tennis-view":"static/live-refresh-tennis-view-28ddbf0727027","live-refresh-news-list-controller":"static/live-refresh-news-list-controller-ee45762f7dbe7","live-refresh-news-list-view":"static/live-refresh-news-list-view-9c47d574e49d4","live-refresh-livefyre-pinned-controller":"static/live-refresh-livefyre-pinned-controller-44287b34c8506","live-refresh-livefyre-pinned-view":"static/live-refresh-livefyre-pinned-view-a78229a5d01c4","live-refresh-live-table-controller":"static/live-refresh-live-table-controller-053e53c72d2a5","live-refresh-live-table-view":"static/live-refresh-live-table-view-acc034f23d117","live-refresh-live-table-static-view":"static/live-refresh-live-table-static-view-bbff46626848e","live-refresh-masters-live-panel-controller":"static/live-refresh-masters-live-panel-controller-b237958f07549","live-refresh-matchplay-table-controller":"static/live-refresh-matchplay-table-controller-c8d653e8ec9e1","live-refresh-matchplay-table-view":"static/live-refresh-matchplay-table-view-aafd4fb26b14f","live-refresh-ryder-cup-controller":"static/live-refresh-ryder-cup-controller-737295aac3b2e","live-refresh-ryder-cup-view":"static/live-refresh-ryder-cup-view-8975b104d8f84","live-refresh-status-lookup":"static/live-refresh-status-lookup-58cee7af21a4a","live-refresh-switch":"static/live-refresh-switch-122a55d025f32","live-refresh-team-events-controller":"static/live-refresh-team-events-controller-4cb3d870d779b","live-refresh-team-events-view":"static/live-refresh-team-events-view-705c641b015af","live-text":"static/live-text-bbd7665a86991","live-refresh-swingometer-controller":"static/live-refresh-swingometer-controller-b7ade1b72e79a","live-refresh-swingometer-view":"static/live-refresh-swingometer-view-425bcd02cb919","livefyre-auth":"static/livefyre-auth-d30ce39d9f031","livefyre-social":"static/livefyre-social-2ef6165825d8a","load-into":"static/load-into-6af455f20f3bd","load-more":"static/load-more-765d8e57df5c0","load-more2":"static/load-more-05a9bb0171a4e","match-head-switch":"static/match-head-switch-b85e40ff913e7","load-more-inline":"static/load-more-inline-6ee576a87aef2","load-more-once":"static/load-more-once-b9144ab829181","map":"static/map-94fcb75a28607","media-query":"static/media-query-0296e4082a758","now-tv":"static/now-tv-8700a2f7d2f1e","most-popular":"static/most-popular-c1147764fe234","observable":"static/observable-6a091c15b9a4a","open-top":"static/open-top-3eff6bd9d5565","overlay":"static/overlay-b444bdc049b12","overlay-widget":"static/overlay-widget-56d2dc14d6d21","page-nav":"static/page-nav-479fc6b85357e","parse-date":"static/parse-date-6463ce015eee7","page-filters":"static/page-filters-5f38de0bf6eeb","persistent-autocomplete":"static/persistent-autocomplete-8459865f00a4f","polaris-glint":"static/polaris-glint-90f846e5378ec","pikaday":"static/pikaday-ce6be92da6c09","pl-clip-promo":"core/js/modules/core2/pl-clip-promo","poller":"static/poller-b0ddbff69a6a9","polls":"static/polls-2ef656ad8404e","poll-ig":"static/poll-ig-e17180cbcc564","media-playlist":"static/media-playlist-ebc8d2abe3e18","postpone-load":"static/postpone-load-2ae208049e0f1","postpone-load2":"static/postpone-load2-6ad484e51343f","postscribe":"static/postscribe-3737e3c2f9-f3bc808a8b738","pub-sub":"static/pub-sub-9323318c11e08","roadblock":"static/roadblock-edae35c62e3c7","update-content":"static/update-content-b6fc0cfd94862","script":"static/script-27238830c957e","scroll-to":"static/scroll-to-97ec63ad7135c","section-nav":"static/section-nav-3aff450804b4f","selectable":"static/selectable-f199bca8d8e16","selectable-list-view":"static/selectable-list-view-3330035b870a5","share-button":"static/share-button-606792a8e7289","site-layout-primary":"static/site-layout-primary-d66ac28011c25","site-nav-desktop":"static/site-nav-desktop-9b1b26877d782","sky-go":"static/sky-go-44fd25b3a1748","skyid-login":"static/skyid-login-9f5140a550d32","is-loggedin":"static/is-loggedin-69dfe40b9565f","sky-sports-date":"static/sky-sports-date-e985472a648e9","squad-selector":"static/squad-selector-45e17c533f3a2","social-map":"static/social-map-8bc134219358b","sp-player":"static/sp-player-5ef6b052166d3","sticky-scroll":"static/sticky-scroll-4ccc7640bda1f","string":"static/string-19008c0fbd461","swipe-nav":"static/swipe-nav-18987ddd0e3ed","subscriber-video":"static/subscriber-video-5d8435b0ea5ab","table-sorter":"static/table-sorter-7d5988301396e","table-sorter-lite":"static/table-sorter-3d24f6a403740","tabs":"static/tabs-b20fcf8e1c825","tabs-lite":"static/tabs-lite-cb10daad481bf","tabs-filter":"static/tabs-filter-1ef8b2a921435","tab-navigation":"static/tab-navigation-68b7c289a7569","team-formations":"static/team-formations-a90922defa046","thumbs":"static/thumbs-0cf143fb65daa","toggle-class":"static/toggle-class-dd3a8c4ce2c14","toggle-switch":"static/toggle-switch-4b14c9522febe","trending":"static/trending-e0bb96dbc6ece","trigger-event":"static/trigger-event-580cd06dcede1","tv-guide":"static/tv-guide-495271c3f333e","update-html":"static/update-html-7913f53b11d6f","update-text":"static/update-text-82964c420cfb8","user":"core/js/modules/user","util":"static/util-b69470ac564b1","validator":"static/validator-f3b00bc96d618","vidiprinter":"static/vidiprinter-e8c9174ecfa73","vm-suppression":"static/vm-suppression-9a7148a4170ba","web-notifications":"static/web-notifications-a91a27e944caf","widget":"static/widget-e29945f3a184a","widget-lite":"static/widget-lite-a450505656ea9","widget-loader":"static/widget-loader-a0232be50e094","window-observer":"static/window-observer-b10f792cfb582","your-say":"static/your-say-3b2bbc5fcf119"}});
require(['skysports_digrev', 'sdc-site-pub-sub'], function (appController, pubsub) { window.sdc = window.sdc || {}; pubsub.init(window.sdc);
appController.init(); });